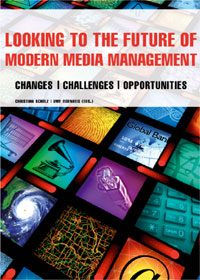 The media industry has become an increasingly fascinating sector for students, researchers and practitioners alike. During the past decade it has come to be seen as one of the fastest growing and most powerful industries in the world. There is a correspondingly growing need for professional and media-specific management tools to monitor its development.
Based on the desire to provide professional and actionable knowledge to media managers as well as specific teaching concepts for Media Management teachers and students alike, the book "Looking to the Future of Modern Media Management – changes | challenges | opportunities" examines current media management issues through the lens of two not uncomplementary perspectives: that of the media's researchers (theory) and that of its workforce (practice). Both perspectives maintain a strong management focus.
The book contains 22 contributions covering issues from current and forthcoming media management challenges, country-specific media management analysis, developments in the media value chain, new insights into media consumer behavior as well as various outlooks and recommendations for the future of media management, written by media management practitioners and academics.